More Than 100 Locations. Find Yours Now.
We make it easy to schedule online or by phone before walking in.
You can also make an appointment for later. Filter below to find your center today: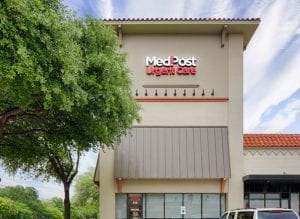 Dallas Garland Road – Casa Linda
9540 Garland Road, c408
Dallas, TX 75218
Schedule Online
Schedule Online
CORONAVIRUS ADVISORY
If you have traveled to mainland China or had close contact with someone who is a confirmed 2019 novel coronavirus patient
— and —
You have fever and symptoms of lower respiratory illness (for example: cough, shortness of breath)
Seek emergency medical care right away. Before you go to an emergency room, call ahead and tell them about your recent travel and your symptoms.
---
If you do not fit the description above, please continue:
Schedule Online
Schedule Online
MedPost Urgent Care Locations Throughout Texas
At MedPost, it's our mission to make urgent care convenient to you, your family and your entire community. With this in mind, we offer urgent care locations across a number of cities in your area, including Dallas Fort-Worth, El Paso, San Antonio and Nacogdoches. We proudly offer urgent care, wellness and occupational health services at our number of MedPost locations across the great state of Texas.
Each of our urgent care clinics is staffed with skilled medical professionals who are passionate about your health. We're even open on nights and weekends, so our services may be available to you when your regular doctor or pediatrician isn't available. From treatment of cuts and burns to preventive wellness checkups, we treat patients of all ages with a variety of symptoms and medical history. Our centers are equipped to handle your minor emergencies as well, and we welcome walk-ins, 7 days a week. Online scheduling is also available for your convenience.
Experience our exceptional urgent care throughout Texas today by finding your nearest location and scheduling online, or just coming by when it is convenient for you. We accept most major insurance plans as well cash, credit, or debit or those who wish to take advantage of our competitive self-pay rates.