5 Creative Ways to Help Kids Enjoy Vegetables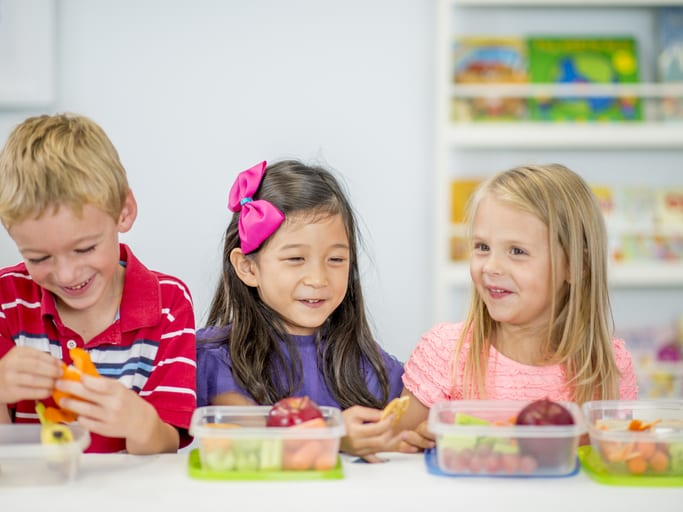 There are many rites of passage in the lives of children. None may be more frustrating for parents, though, than that moment when your kid realizes… he or she just "hates" vegetables. Maybe they came to this conclusion on their own or their friends convinced them that vegetables are just plain gross.
Whatever the case, there may come a day where you can't convince your child to eat vegetables. What to do? There are many ways around this.
Getting kids to eat vegetables doesn't have to be a nightmare. With the following tips, you can convince your child that vegetables can be an enjoyable treat in their school lunches.
1) Juice it up!
Juicing vegetables is one of the easiest ways to get your child to enjoy vegetables. You can also mix vegetables with fruits when juicing to make the drink even more palatable. Keep in mind that fruit juices introduce a lot of sugars and vegetables such as carrots can be high-glucose, so make sure you maintain a healthy balance. High fruit juice content can only exacerbate a sweet tooth in the long run.
2) Teach Delayed Gratification
Teach your child to eat vegetables first and wait on their favorite part of the meal, whether it is the mac and cheese or delicious burger. This way they can get it out of the way and not dread it throughout the meal, ending instead on a high note. Added bonus? Kids who learn to delay gratification do better later on in life, according to several studies.
3) Serve Vegetables as Snacks
When the kids come home from school, chances are they will want to reach for a snack. Instead of putting out cookies or crackers, set out a plate of vegetables such as carrots and cucumbers. Fun veggie dips can help entice them, but again, watch the sugar. Consider making one of these low-cal recipes instead.
4) Replace Meat with Veggies
Some dishes such as lasagna or pizza are great at "hiding" the taste of vegetables. The truth is that a good deal of cheese and a red sauce are surefire ways to make veggies exciting.
Next time you make a lasagna, consider chopping up zucchini instead of ground beef, or replace your meat toppings on pizza night with mushrooms or green peppers to make veggies a fun treat.
5) Vegetable-enhanced Products
A number of snacks and foods traditionally considered "comfort" food are now being made with vegetables. One popular option is gluten-free pizza made from a cauliflower crust. You can also find snack puffs made from veggies, or even pastas made from ingredients such as spinach or lentils.
Want to get really tricky? Make the waffles on Sunday morning with a vegetable mix!
Your kids need veggies to grow and be healthy. Never fear, there are many ways to take the stigma out of vegetables for kids. By leveraging anything from creative recipes to teaching healthy habits, you can help your children eat and love vegetables.