5 Ways To Fight the Flu at Work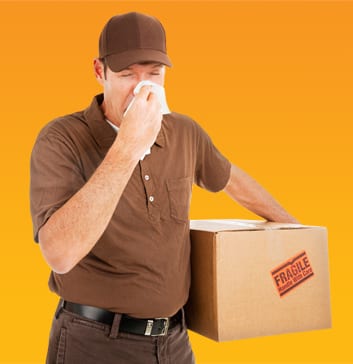 The only thing worse than getting the flu virus is spreading it to co-workers, causing lots of sick days and stress. Any employee who is contagious should always stay home from work, but to help keep workers from catching germs in the first place, follow these basic rules for a healthier, flu-free winter.
1. Offer flu vaccines.
A flu vaccine is the No. 1 way to prevent the flu. You can host a workplace vaccination clinic, or employees can stop by most urgent care locations. Keep in mind that most vaccines can take up to two weeks to become effective.
2. Wash and sanitize hands often.
Hand-washing on a regular basis will prevent germs and stop sick days, so make sure employees know to scrub their hands for no less than 20 seconds. Stock your office with hand sanitizer – it doesn't replace washing with soap and water, but it does kill plenty of germs.
3. Avoid touching the eyes, nose or mouth.
The flu virus can live on any type of surface, including door handles, phones and elevator buttons. To keep germs away, employees should resist touching their eyes, noses or mouths if they haven't washed their hands recently. Use disinfecting wipes to clean surfaces on a regular basis.
4. Eat right and exercise.
You and your employees can dodge illness in general by exercising regularly, drinking lots of water and eating plenty of fruits and vegetables.
5. Avoid others who are sick.
Most flu viruses spread through sneezing, coughing and talking. If you are around anyone who is sick, try to avoid contact such as shaking hands. Implement a no-flu policy, strongly encouraging those with the virus to stay home from work to lower the risk of spreading germs to others.