Healthcare 101: Do I Have a Common Cold or the Flu?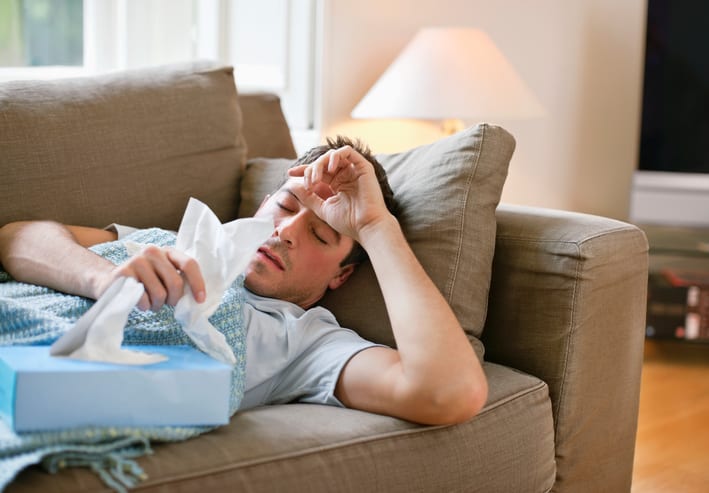 Many people think they have a common cold when they get sick around this time of year. While that sometimes might be the case, it's important not to rule out the possibility of having the flu. Most people don't know it, but "flu season" isn't limited to the cold months of December-February. The virus is actually active through (and sometimes past) April. Here's everything you need to know:
Symptoms: Common Cold vs. the Flu
Because common colds and the flu have similar symptoms, it's easy to mistake one for the other. The best way to know which one you have is to seek professional medical care at your primary care physicians' office or local urgent care center. They'll be able to test you (via a mouth swab) for the flu virus.
If you don't seek medical attention, you can often distinguish a cold from the flu by analyzing the severity of your symptoms. There are some flu symptoms that are worse than those of a cold. Any or all combinations of the following symptoms are a sign that you probably have the flu:
Body aches
Fever
Chills
Muscle aches
Extreme fatigue
Some symptoms common to colds, but not necessarily seen with the flu:
Runny nose
Stuffy nose
Sore throat
Experiencing these in the absence of any of the flu symptoms mentioned above means that you can probably rule out having the flu.
Treatment Advice
Preventative measures are always recommended. Flu vaccines are available and effective. Washing your hands and staying away from sick people are also good ideas.
If you do get sick, there are some simple steps that you should take:
Seek medical assistance within 48 hours. The first 48 hours are critical. If you have the flu, retroviral drugs can be prescribed to help alleviate your symptoms.
Stay home. Not staying home when you have a cold or the flu can greatly increase the severity of your symptoms. And you're more likely to cause others to get sick.
Wait for symptoms to subside. Jumping back into everyday life before symptoms subside could mean that you simply get sick all over again. Be patient and wait a day or two to make sure your body's back to "one-hundred percent."
It's also important that you follow the advice of your physician. Take prescribed medications and follow the treatment plan as instructed.
Finding Treatment
At CareSpot Urgent Care we treat many seasonal illnesses, including complications from colds and the flu. We offer convenient medical care, with shorter wait times than most ER visits, and at a lower cost. For same-day care, you can walk in, call ahead of time, or schedule an online. When you choose CareSpot, you'll be in good hands and on the road to a full recovery.