Healthcare 101: Tips For A Safe Halloween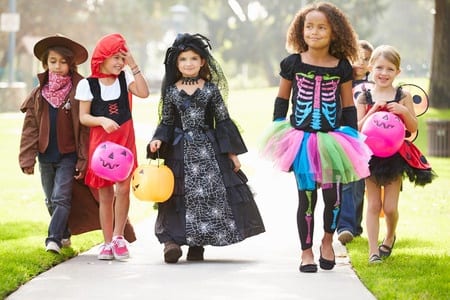 Halloween offers an exciting break from kids' everyday activities and the beginning of a new school year. To ensure that Halloween night includes only happy memories, it's important to talk to kids about ways to stay safe. These Halloween safety tips can help keep them safe while also having a spooky (or not so spooky… you pick!) fun time:
Follow pedestrian safety rules. Kids can sometimes forget about normal safety rules during the excitement of Halloween. Remind them to still keep in mind the basics — such as crossing only at corners or crosswalks, and looking both ways every time. If they must cross in front of a car, making eye contact with the driver can help ensure the driver is more aware of their presence. Whenever possible, walk on sidewalks or paths. When there is no sidewalk, walk facing traffic (on the left side in the U.S.). When crossing the street, always walk and avoid running in order to stay aware and avoid trips and falls.

Pick a costume that reduces chance of injury. Whenever possible, opt for face paint over masks which can reduce visibility (if you do have a mask, make sure those eye holes are large!). Also do your best to wear shoes that are comfortable for long walks. While a pair of red sequined Mary Janes may look just right for that Wizard of Oz costume, they may lead to sore feet or twisted ankles if they are worn during extended trick or treating (it might be fun to try sequined sneakers instead… DIY'ers, unite!).

Flowing costumes are also not good picks to wear while trick or treating, as those long hems and excess fabric can become hazards along the way. Keep costumes short enough that there is little to no chance of tripping on them during the evening. It's one less thing to worry about on a night where there are plenty of other distractions at hand.

One more thing: Make sure there is at least piece of the costume that is reflective or well-lit. An all-black costume can turn kids invisible in the dark. Fun options to help avoid this include colored reflective tape, glow bracelets and/or necklaces, flashing LED lights, and more.

Stay with the group. Younger kids should always have adult supervision during trick or treating. Make sure you can see your child. If they need more independence, hanging back by the sidewalk can allow for a good balance of independence and safety.

Older kids may occasionally go out without parents (always at their parents' discretion), but it's important that they should always stay close to their friends. If you're a parent or authority figure, talk to them as a group before trick or treating to emphasize sticking together. If one or two of them want to go home early, have the whole group walk together to drop them off.

Stick to well-lit areas. Help your kids chart a trick-or-treat route that avoids any poorly lit streets completely. Areas with insufficient lighting increase the risk of drivers not seeing people walking in the dark. There is also a higher chance of tripping on fallen sticks or running into low hanging branches with inadequate lighting. (Got a costume idea that incorporates a headlamp? Go for it!).

Check over candy before eating. If your child has allergies, be sure separate out candy with potential allergens in advance to avoid any risk of exposure. All other candies should be checked for torn or opened wrappers. Be on the look out for anything else that looks suspicious, and discard anything that is not factory-sealed or looks questionable in any way.
By setting a few guidelines, you can allow kids some room to enjoy this holiday without unnecessary risks. Keep these tips in mind to ensure that spooky costumes are the only scare you get this Halloween. And as always- if for some reason you encounter a scrape, bump, or fall- CareSpot is here to help.