5 Simple Ways to Make A Healthy Thanksgiving Dinner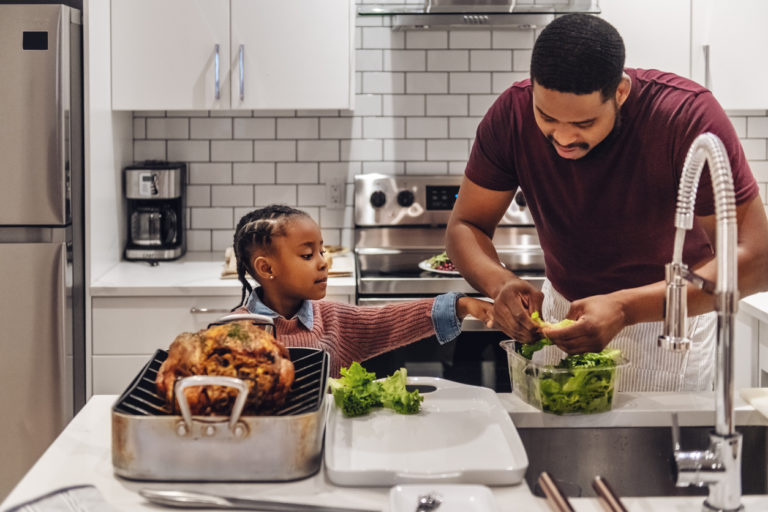 Thanksgiving dinner often gets a bad reputation from a few "unhealthy" holiday foods. The good news: Thanksgiving dinner doesn't have to be bad for you!
A few simple swaps can lighten the load without sacrificing flavor. Try these healthy recipes for a flavor-packed Thanksgiving dinner.
Alternative Gravy Options
Turkey gravy certainly is delicious, but when made with the drippings from the bird, it can be very high in fat. One strategy is to pour the drippings into a glass measuring cup and put it in the freezer. This allows the fat to rise to the top, meaning that you can skim the fat and just use the delicious juices.
Alternatively, you might create a healthy mushroom gravy made with vegetable stock. This has the added bonus of satisfying your vegan or vegetarian guests.
Lighter Mashed Potatoes
Mashed potatoes can easily become a vehicle for huge amounts of butter and heavy cream, all topped with another pad of butter and a swirl of gravy. This year, step back and rethink things.
Ricing your potatoes will give them a fluffy texture without the need for heavy cream. Cut back the butter by half, and swap the heavy cream for low-fat or fat-free milk. You can also add low-fat sour cream or plain Greek yogurt, both of which can add creaminess and a bit of tangy flavor.
Sweet Potato Casserole
Many traditional recipes for sweet potato casserole call for brown sugar, candied nuts, and even marshmallows. This year, keep in mind that sweet potatoes already have plenty of sugar (after all, it's in the name!).
Bring out the inherent sweetness of sweet potatoes by slowly roasting them in the oven. Drizzle with a bit of olive oil, and you will have such a healthy hit that no one will miss the casserole.
Add a Salad Course with Hearty Greens
Salad can sometimes fall by the wayside when it comes time for Thanksgiving menu planning. To ensure everyone has room, start the meal with a salad course.
Hearty greens (think spinach, arugula or mustard greens) pair well with dried cranberries, a small crumble of goat cheese and walnuts, all topped with a healthy vinaigrette. A salad course sets the pace of the meal and may help keep you from overindulging on some of the less healthy main dishes.
Don't Forget About Dessert
Pie can be one of the most anticipated parts of Thanksgiving dinner, and being health-conscious doesn't mean you need to forego sweet treats. Rather than adding a lot of sugar and fat to your pumpkin pie, focus on the spices.
Adding a little more cinnamon, nutmeg and ginger can draw out the natural pumpkin flavor. A crushed gingersnap crust can also add great texture without the high fat often found in traditional pie crust.