Know before you go: 5 tips for international travel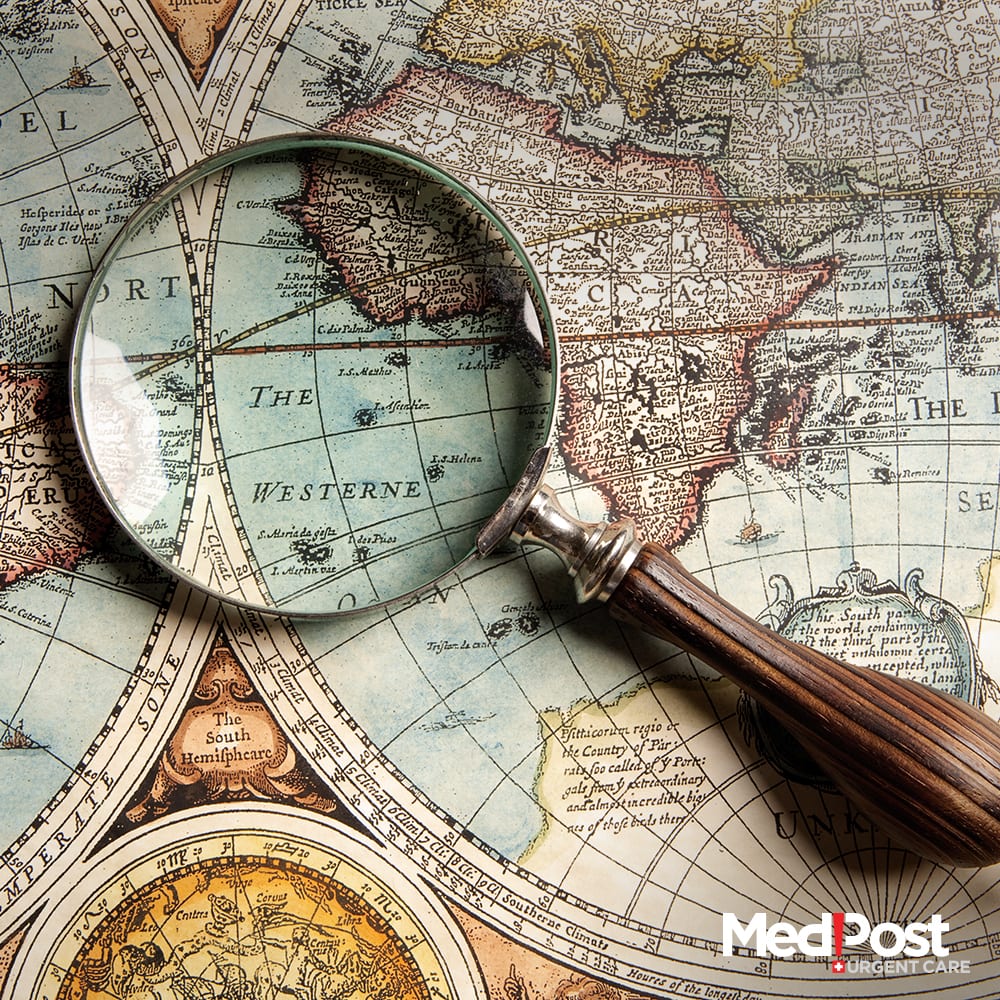 With summer right around the corner, wanderlust may be starting to color your daydreams. If you're planning a trip out of the country, though, you've got some practical planning to do!
Our brand manager Tom Clapham bets you've already done your homework but — just in case — there are some great international health and safety tips at the U.S. Passports & International Travel website.
Here are five of the most useful suggestions. They're mixed with comments based on Tom's real-world experience — he's visited 47 of the 50 U.S. states and 34 countries!
Tom hopes to add country number 35 later this summer, when he will head to Norway with his 93-year old traveling buddy (and grandfather).
1. Know how to find medical help overseas
What would you do if you got seriously ill in another country? Stave off any fun-killing concerns with a little pre-planning! U.S. embassies and consulates in foreign countries keep lists of local hospitals and physicians, which you can locate under the "American Citizens Services" heading on any embassy website. 
In a true emergency, consular officers can also inform your family or friends about what has happened and assist in the transfer of funds from the U.S. to cover your medical expenses.
Here's Tom:
"Embassies might offer more than you'd expect! While I was spending a summer abroad in Eastern Europe in 1995, I was a frequent visitor to the embassy library — I read a bunch of Hemingway hardbacks that summer. These days, we can load our digital devices with whatever content we wish or just access it on the go."
2. Travel with photocopies of your itinerary and important documents
Before you head out, make two copies of all your crucial documents. These might include the ID page of your passport, foreign visas, hotel confirmations, airline tickets, driver's license, and credit cards.
Leave one set of copies with a friend or family member at home, and make sure you both know how to contact each other in an emergency. Take the other copies with you — stored separately from the originals — just in case something goes missing while you're abroad.
"Something I generally do is scan and send my passport to a secure email address before a trip. Then I don't have to worry about losing my copy."
3. Check whether your health insurance covers you outside the U.S.
Some insurance providers pay "customary and reasonable" hospital costs abroad, but many don't. What's more, very few insurance plans cover medical evacuations back to the U.S. Even if your insurance is valid overseas, you may have to pay for care entirely up-front.
It's worth your peace of mind to investigate exactly what your insurance covers while you're traveling. If your current plan isn't adequate, consider purchasing a short-term policy for the length of your trip. You can set these up with a travel agent or a private insurance company — Social Security and Medicare don't provide any coverage outside the U.S.
"Short-term plan options that include evacuation back to the states are an especially good idea if you're traveling to a remote area with security concerns or lack of sophisticated medical facilities.
A family member of mine once experienced a serious medical issue while traveling. Treatment went well, but there was an extended hospital stay that would have been less stressful for everyone if it had taken place closer to home."
4. Think about an International Driving Permit (IDP)
If you plan to drive while abroad, check with the embassy of the country you'll be visiting to see if you need an IDP. Many countries don't recognize a U.S. driver's license alone, and your road trip could take a detour if you're driving illegally.
An IDP is basically an official translation of your driving credentials into 10 foreign languages. You can obtain one from the AAA or the National Auto Club for less than $20.
"Keep your eyes on the road and your hands on the wheel! Do your homework ahead of time — don't wait until you're in the driver's seat to use Google Maps or Translate to figure out directions.
And, yes, you probably will see interesting things on the road that you want to take pictures of. Pull over, get the shot, and save those social media updates and texts for later."
5. Be sure to have enough medication
It's always a good rule of thumb to pack a few extra doses in case you're delayed in your travels. If you have a vital prescription, request a letter from your doctor to keep with the medicine in your carry-on bag. This serves two purposes: the letter takes care of any questions at security or customs, and storing medicine in your carry-on means it won't get lost during baggage checking.
It's also a good idea to keep medications in their original, labeled containers. Also, you may want to ask your doctor or pharmacist for the name of the generic equivalent of your prescription, in case you have to re-supply while traveling.
"Keep in mind that some medications that are legal in the U.S. are illegal in other countries, and vice versa. Ask your doctor before your trip and, if any question remains, contact the foreign embassy of the country you plan to visit. Be informed, be safe, and be well!"
Here's hoping these pearls of travel wisdom help you make the world your oyster.
— Contributing Editor Jennie Saia