Spring Cleaning Keeps Families Healthy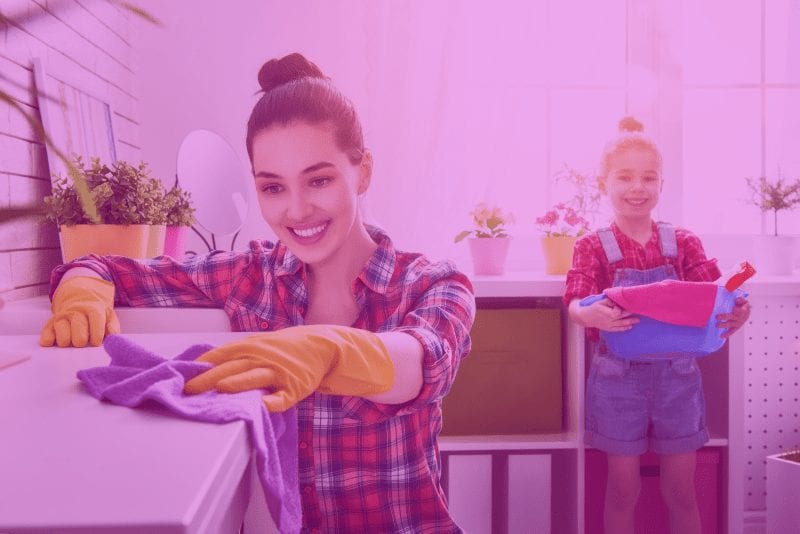 It has been awhile since you last got into every nook and cranny of your home. The dust bunnies have multiplied and while you regularly clean, it is time to really get at the accumulated dirt and grime. A major plus is that a clean home is inviting for you and your loved ones. However, the advantages extend beyond the obvious.
One less-recognized caveat to a clean home is the health benefits — and not just the calories burned when dusting, vacuuming, lifting and organizing. Let's explore the advantages to a clean home that can have you and your family breathing easier.
Three Spring Cleaning Tips
1. Dust, mold and pet dander contribute to allergies and inflammation.
Giving the house a good cleaning can improve the health of your family. Take down the window treatments or push aside the shelves and furniture and see what you find. It may be more than change and lost toys! Accumulated dust and pet dander may trigger allergies in sensitive individuals and increase their levels of inflammation. Dampness and levels of high humidity make it easy for mold to grow and negatively impact the long-term health of adults and growing children. Get high and low, reaching baseboards, tiles, behind pipes and more to get at those less-obvious hiding places for dirt, dust and grime.
2. Air quality issues can come from within the home.
Many will soon be turning on the air-conditioning. It is important to check the air-conditioning and heating equipment in a home. Air-conditioning and furnace filters need to be replaced every month or so depending on the filter chosen. In addition, bathroom fans should also be cleaned. Turn off the power and wash the cover and clean fan blades. The dirt in a home sometimes hide deep within. Check your HVAC system and remove outer covers to give your home a deep clean. This will help reduce the level of potential allergens in a home and alert you to any other home maintenance issues.
3. Home maintenance can keep your family alive.
It seems like a pretty strong statement to make, but having working smoke and carbon-monoxide detectors may make the difference between life and death for yourself and those you love. Keep your detectors working as they should when you replace batteries twice a year. Some choose to do so during daylight savings time and standard time. Dust and vacuum detectors while you are replacing the batteries this spring for optimal performance.
Make every spring a time to thoroughly clean your home. Get the family involved in cleaning and organizing their rooms. Talk to a healthcare practitioner to learn more about how cleaning your home may improve any existing health concerns and prevent future health conditions.
If you are suffering from an illness or injury, CareSpot is here to help. Walk-in, call ahead, or schedule an appointment online at one of our urgent care locations. We have more than 30 locations in Florida!