3 Easy Back to School Breakfasts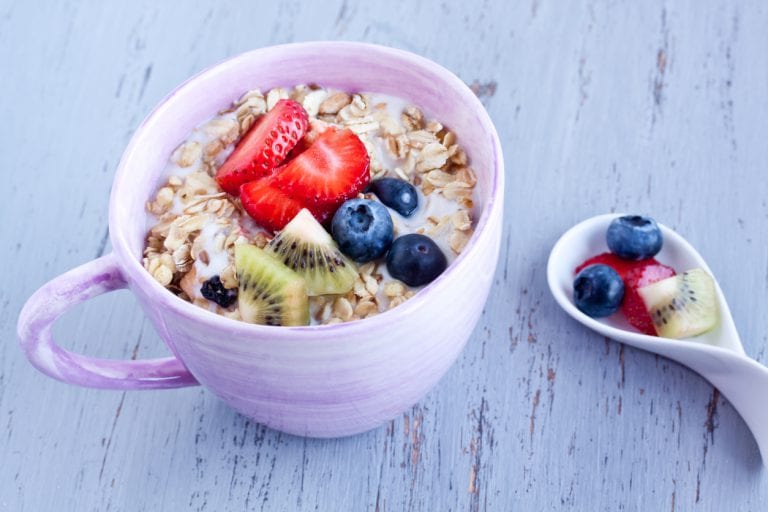 With the start of a new school year, many parents are looking for ways to help get everyone out the door on time. Kids need a healthy breakfast in order to be primed for learning — but some days it seems like there's barely time for any breakfast, let alone something that isn't pre-packaged or processed.
Try our easy meal solutions to help make those mornings go more smoothly!
With a bit of planning ahead, you can send your kids off to school with a belly full of vitamins, minerals, and fiber they need to fuel their learning until lunch time — and lessen the stress of your mornings! Below are a few ideas to get you started.
Make-Ahead Breakfast Sandwiches
Place six ramekins that have been sprayed with non-stick cooking spray on a baking sheet before adding a slightly scrambled egg to each. Season with salt and pepper to taste. Put all six on a baking sheet and bake in a preheated 375-degree oven.
After baking the eggs for about 12 to 14 minutes until the whites are cooked through, add one egg to each of six English muffins before topping with deli ham slices and cheese. Wrap in plastic wrap tightly before adding them to the freezer.
In the morning, simply unwrap from their plastic before re-wrapping in a paper towel. Heat in the microwave for one to two minutes until they're heated through. This easy recipe can be prepared in bulk ahead of time and reheated on the go! Perfect for feeding a whole family on school mornings (and maybe even munching in the car!).
Customized Freezer Oatmeal Cups
Combine three cups of oats with three cups each of milk of your choice and water in a large saucepan. Add one-quarter cup of brown sugar and a pinch of salt. Bring the mixture to a boil before reducing the heat to medium. Cook for an additional two or three minutes, or until it has reached your desired consistency.
Spray two 12-cup muffin tins with non-stick spray and divide the oatmeal evenly among them. Add toppings such as fruit, nuts and spices before covering the tins with plastic wrap. Place them in the freezer until frozen — at least several hours.
Remove between one and three muffins per serving from the freezer the night before or when you want to serve them. Heat in the microwave for one or two minutes — or longer if frozen — and add a splash of additional milk. These tasty treats are affordable and low maintenance—and you can customize the toppings to ensure your kids will love them! Oatmeal is also a great heart healthy choice for mom and dad!
No-Bake Snack Bars
In a microwave-safe bowl, combine one-quarter cup each of unsalted butter, honey and light brown sugar, packed. Heat for one minute on high power before stirring. Repeat the cooking and stirring steps two more times until the mixture is bubbly and foamy. Stir in one tablespoon of vanilla, being careful in case the mixture bubbles more. Add three cups of O-shaped cereal and one cup of raisins. One cup of chopped almonds, honey-roasted peanuts or trail mix can also be substituted.
Stir well before pressing into a foil-lined pan. Cover the pan with another sheet of foil before placing it in the freezer. The best part is that these can last in the refrigerator for up to two weeks! This recipe also easily allows for modifications if there are allergies or picky eaters in the family.