Benefits of Employee First Aid Training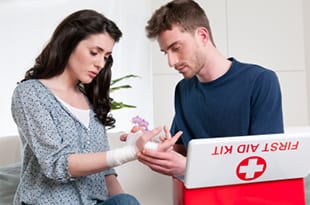 It pays to react quickly in a medical emergency such as choking or a heart attack. Having one or two employees trained in first aid is helpful, but more beneficial is providing first aid instruction for all workers. Expert trainers can hold on-site first-aid workshops, or you can find classes in the community for employees to attend.
Benefits of first aid training for employees:
Ability to identify risks in the workplace that could cause illness or injury
Implementation of a process that will be followed in case of emergency
Knowledge of where to find first-aid supplies and how to use them
Increased awareness that leads to minimized risk of injury or illness
Once trained in first aid, your staff will have the skills necessary to respond to emergencies with confidence in the workplace and beyond. This investment in your employees is important and long-lasting: Once certified, it is also easy to maintain qualifications with periodic refresher courses.