Healthcare 101: Ten ideas for a more active (and memorable!) Thanksgiving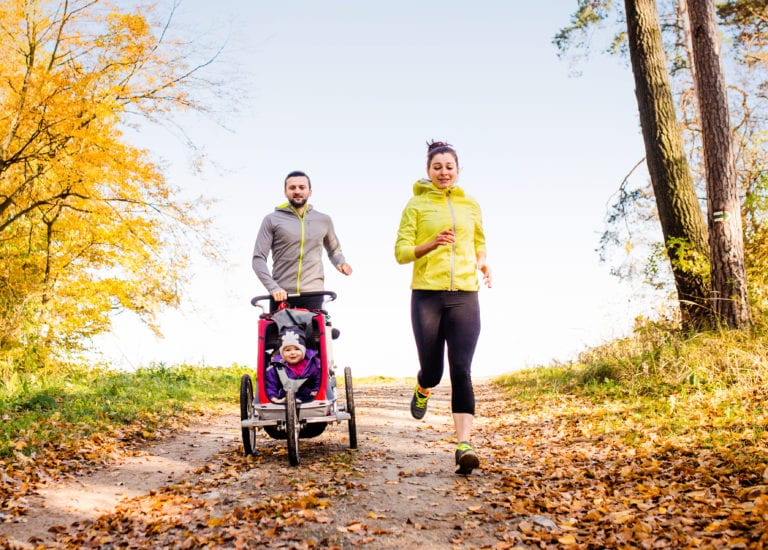 If your Thanksgiving is like most Americans', it revolves around food.
And family, and football, and gratitude — of course! — but food above all.
The problem is, after gorging yourself on turkey, stuffing, and cranberry sauce, you might feel uncomfortably full and too sleepy to fully enjoy this special time with your loved ones.
This year, why not start a new tradition of getting active with your relatives? You'll end up being thankful for your boosted energy and the memories you've made. These ten simple ideas are a great place to start:
1. Take a group walk. Stroll through the neighborhood after your meal to improve digestion and fight off the dreaded "turkey nap!" Or, if you can swing it, head to a local park or trail to enjoy some family bonding in nature. (Try these walking games to keep antsy kids focused.)
2. Play touch football. This game is a Thanksgiving classic, and you can fit it in before the "real" game starts on TV. If you don't have a football, freeze tag and dodgeball are great options, too. Raise the stakes by giving the winning team first pick from the dessert table.
3. Jump up during commercials. Speaking of the big football game, make the most of the commercial breaks by getting up and moving around. You can declare a "3-minute dance break," challenge people to power walk around the house, or even choreograph a quick cheer for the next time your team scores a touchdown.
4. Do the "Turkey Pokey." Instead of putting your right arm in and out, put your right wing in and out. Instead of shaking it all about, gobble it all about. Continue with your left wing, your drumsticks, your tail feathers, and your beak. Gobble gobble!
5. Help with the clean-up. Cleaning the table will endear you to your host and burn calories! Carrying heavy plates, moving chairs and tables, and washing dishes can help you work up a sweat, believe it or not.
6. Complete a gratitude scavenger hunt. This printable Gratitude Scavenger Hunt will have your family running around seeking something that makes them laugh, someone older than they are, something that smells amazing, and so on. (It was originally meant to be a photo scavenger hunt, but it works just as well if guests simply write their answers on the paper.)
7. Start a game of "Turkey Tag." The player who is "it" runs around flapping their arms like turkey wings. All the other players must run away, too — gobbling as loud as they can! And that's not the only Thanksgiving game variation: Turn "Duck, Duck, Goose" into "Chicken, Chicken, Turkey," or try "Tom Turkey Says" instead of "Simon Says."
8. Play a popcorn relay race. The fun part about this Thanksgiving game is seeing the whole family join in, from toddlers on up to grandparents! Fill two large bowls with popcorn and place them at one side of a room or lawn. Put empty bowls at the opposite end of the play area. Divide guests into two teams and have them carry the corn from one bowl to the other using small measuring cups. The team that moves all their popcorn first wins — and everyone is left with a healthy snack!
9. Run in a Turkey Trot. These family-friendly runs have become a common tradition because they not only offer the chance to make space for a big dinner, but many also give back to the community. Most trots are 5Ks — that's a manageable 3.1 miles — and participants can run, walk, or both. Not to mention, costumes are welcome, and you're usually finished by 10 a.m.! Find a Turkey Trot near you.
10. Collect your family health history. This suggestion isn't technically "active," but it is extremely important. Did you know that Thanksgiving is also National Family History Day? The Centers for Disease Control and Prevention (CDC) encourage everyone to use the holiday as an opportunity to gather a family health history.
Knowing your family health history risk for cancer, diabetes, and other genetically influenced conditions can help you stay healthy — if you act on the information.
If the topic seems a bit heavy for a holiday, remember: You're asking not just for your own health, but for the health of everyone in your family.
If you want to make the conversation a bit more lighthearted, expand the topic from just health history to a full family history. Young guests can learn about their ancestors' adventures and even make a family tree while the adults take notes on health. Visit the CDC website for full instructions on how to collect a family health history.
From us to you — however you celebrate — happy Thanksgiving. Gobble gobble!