Healthcare 101: Get a Leg Up on Avoiding Thanksgiving Injuries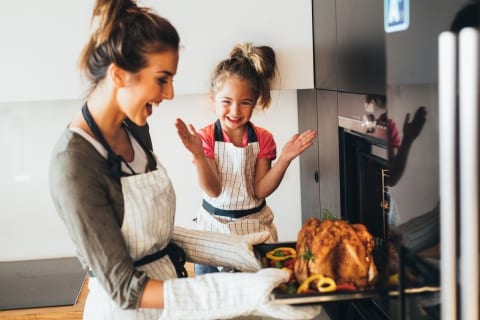 Thanksgiving is a time to gather together and enjoy the company of friends and family over a delicious dinner. With all the festivities, you're probably not thinking about ending up with an injury that might derail the celebrations. Thankfully, many injuries associated with this holiday are entirely avoidable. What do you need know to have a happy and safe Thanksgiving?
Cooking the Bird
Urgent care visits can easily happen as a result of cooking the turkey and other food prep. Burns are a common risk associated with preparing holiday meals. In order to avoid them, do not wear loose clothing and be sure to turn all pot handles toward the back burners. Children should be kept out of the kitchen during meal preparation as they could pose a distraction or even injure themselves by touching hot surfaces.
It is also important to stay focused when using a sharp knife to cut foods. Carve slowly and have the turkey carving duty performed by the most experienced carver present. To be on the extra safe side, you can even order a pre-cooked and sliced turkey from many grocery stores and catering services.
Food-related Illnesses
It's common to overindulge during the holidays and also consume unfamiliar foods. Overeating and eating too quickly can lead to indigestion, chest pain or heartburn. Chest pain is also a sign of a heart attack, therefore causing some to make a trip to the emergency room. Eat slowly and take breaks to allow food to digest and the body to register feelings of fullness. If you're prone to indigestion or heartburn, it's wise to keep antacids handy in a purse or coat pocket.
Food poisoning is also a common threat this time of year. Raw meats need to be kept entirely separate from other foods while prepping. The turkey also needs to be completely thawed prior to cooking. When cooking the turkey, make sure the temperature in the oven never goes below 325 degrees
Playing Around
Many families enjoy going outside to play football or other backyard sports before or after the big meal. Even when it's all in good fun, any contact sport can put you at risk of sustaining a fracture, strain or sprain. Avoid exercising on a full stomach and try to resist the urge to be overly competitive (we know that can be tough as we remember the "glory days!"). If your typical day is more sedentary in nature, you're likely to be at a greater risk of injuries such as back pain, a disc herniation, a lumbar sprain or an annular tear. If you plan on joining a pickup game anytime soon, it's a good idea to start some moderate workouts prior to getting together. Choosing flag football or touch football over "full contact" is a wise option for all ages — and you can still get plenty of cardio! Remember to warm up before playing, and also take time to cool down. Avoiding alcohol before playing will also help reduce the likelihood of injury.
Making Your Thanksgiving Day Plans?
As the day approaches, take the time out for necessary self-care and try to continue to eat healthy and get enough exercise. Family members and friends that sustain an injury, a case of food-poisoning, or other illnesses should seek treatment as soon as possible.
It's important to stay safe and healthy, but if you do find you need urgent care, CareSpot is open through the holidays with same-day service. Check CareSpot.com for each location's holiday hours, then just walk in at your convenience or schedule online.