Tips to Make Your Favorite Thanksgiving Dishes Healthier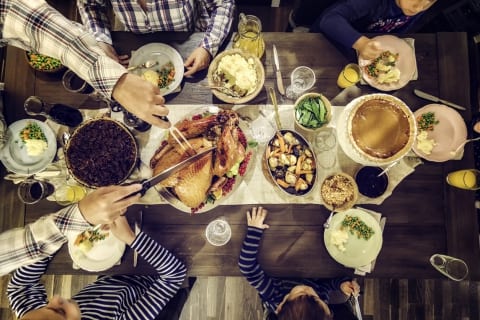 Thanksgiving typically means spending time with those you love while enjoying delicious foods. All too often, these foods are laden with sugar, salt, fat and empty calories. However, a few simple substitutions can make favorite dishes healthier with no loss of flavor. Here are some tried-and-true ideas:
1. Tackle the Turkey
While turkey is naturally lean, you can help reduce its fat content even further by removing excess skin. If the recipe you use to prepare the bird includes added salt, consider reducing the amount you use. Replace the salt with additional flavored herbs including oregano, parsley and rosemary. You can also go one step further and eat only the white meat to shave off additional calories from your meal.
2. Rein in the Potatoes
Potatoes are a calorie-dense food and high in carbohydrates. Switching to mashed cauliflower (don't knock it 'til you try it!) as the base of your favorite mashed potato recipe not only slashes the dish's caloric and carb content… it also adds fiber and significant amounts of nutrients. Many traditional mashed potato recipes are made with whole milk and lots of butter. Some may choose to substitute skim milk and trans fat-free margarine as replacements for whole milk and butter. It's important to evaluate all options thoroughly in order to make the best choice for your family's personal taste and lifestyle.
3. Slash the Stuffing
Stuffing made with a generous amount of white bread has the potential of adding lots of empty carbs and calories to your day. Instead, try using 100% whole wheat or whole grain bread to boost the fiber of this dish. Bonus: more fiber also helps increase its ability to make you feel fuller, which can help prevent you from overeating!
4. Better Candied Yams
Candied yam recipes often call for canned sweet potatoes which can increase the dish's salt content. While using fresh yams or sweet potatoes will increase the dish's prep time, it's worth it considering all the added fiber. Some recipes call for additions such as cookies and/or marshmallows, increasing the fat and sugar in the dish. Try skipping those and using cinnamon, nutmeg or other fall-inspired spices to increase the flavor without adding sugar and unnecessary fats.
Whether you choose just a few healthy tips above or bring them all to your Thanksgiving table, you'll have a healthier holiday. Do you have a favorite way to make a traditional holiday dish healthier? We'd love to hear it.