Healthcare 101: Simple Tips to Stay in Shape this Holiday Season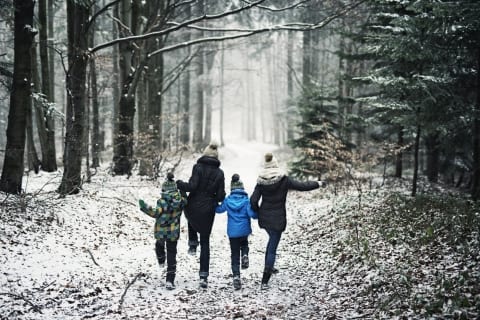 It can be easy for holiday celebrations and preparations to feel, well… all-consuming. The busy schedules, multiple celebrations, and holiday parties can have an unintended side effect of exercise and self-care falling to the wayside. To help you stay in shape this holiday season, try the following tips!
1. Keep moving
Holidays activities like snuggling by the fire or watching holiday movie marathons might be pretty sedentary (and hey, relaxation is important, too), but it's pretty easy to keep moving with a few simple changes to your routine. Walking through the mall, cooking in the kitchen, and even standing during that football game as you cheer on the team counts for something! If you happen to be sitting a lot, make a point of simply getting up and moving around at least every 30 minutes. Even better, strive for 30 to 60 minutes of cardio each day that is appropriate for your level of health. If you're planning on indulging in chocolate covered cherries, ooey-gooey "reindeer food," or other holiday treats, just increase your activity to match your intake.
2. Know the common injuries
It's important to be aware of typical holiday injuries in order to help you reduce the risk of having one. Take extra precautions when it comes to hanging holiday lights, for example. Make sure that you choose a sturdy ladder that's the appropriate height. Enlist someone to spot you on it. Be cautious around black ice, avoiding it if at all possible (try staying off the roads entirely if it's been spotted in your area). Take your time in the kitchen to minimize the possibility of cooking injuries. Also, wear close-fitting clothing (no loose stuff for snags!) and keep distractions to a minimum when cooking and baking.
3. Plan ahead
Traveling to see family members and friends is one of the many joys of the holiday season. Staying healthy means planning your opportunities to sleep, eat, exercise and hydrate while traveling. Try to stick to a schedule. And remember that a get-together is a single day of indulgence — not an entire season! Take a moment to indulge, then get back on track the next day with healthy favorites.
4. Expect the unexpected
Weather delays, traffic jams and other unwelcome surprises are all part of the holidays. Prepare for them by keeping some healthy snacks and a bottle of water in your bag, as well as warm boots and an extra blanket or two in the car.
If you do encounter the unexpected illness or injury, CareSpot is here for your urgent care needs throughout the holiday season. Our multiple locations, online scheduling, broad range of services and extended hours make staying healthy easy and convenient this holiday season. With more than 30 locations throughout Florida, finding the help you need is as simple as visiting CareSpot.com