Medicine or Malarkey: Can Spring Cleaning Benefit Your Mental Health?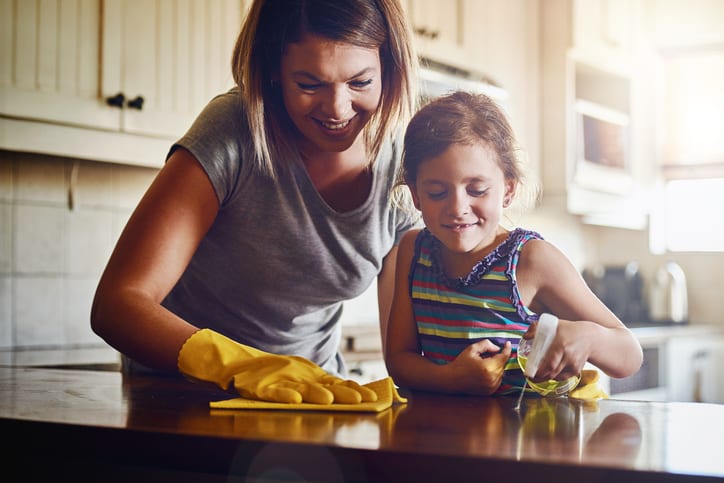 Spring is in the air… what does that mean for you? For many, spring is a time of renewal. However, it might also include grabbing a broom and tackling the cluttered garage or dusty attic. For many of us, warm weather triggers a need to put things in order—both mentally and physically. And the concept of spring cleaning can affect you emotionally. In many regions of the U.S., this change in season can feel like coming out of hibernation… and doing it with a clean house will renew your spirit!
The Psychology Behind Spring Cleaning
In cooler climates, winter often means being shut inside for months. That often increases the amount of clutter found in bedrooms, closets and entryways. It's no surprise that clutter causes stress. It creates a physical inability to keep up with the volume of objects that accumulate in the home. As a result, levels of stress hormones become elevated.
Stressors like clutter trigger the release of the hormone cortisol, which only adds to the frustration of physical obstacles. Cortisol is commonly known as the 'fight or flight' hormone — and when you're stuck indoors on a rainy day, it's obviously not ideal (or easy) to do either! Instead, try decluttering by creating piles in each room—one for things that stay, one for things that need to reorganize and move elsewhere, and one for things to purge from your life. Organized clutter is still clutter, though — so be sure to follow through with piles of donations, recycling, and other items. Don't forget to "take out the trash!"
How Spring Cleaning Clears Mental Cobwebs
Benefits of spring cleaning go beyond just eliminating the piles of junk that accumulated over the winter. Spring cleaning helps you get physically active, and it's also mental exercise that inspires a sense of rebirth. You'll burn energy and clear your mind while doing yard work, deep-cleaning the kitchen, or finally organizing a messy garage.
Getting active again after the restraints of winter will help you take charge of other things in your life that might be causing conflict. After the physical space around you is cleared, you can shift your focus to "spring cleaning" your mind and lifestyle with a few starting points:
Get plenty of exercise. The Centers for Disease Control and Prevention recommends for children to be active at least 60 minutes a day. The recommendation for adults is around 30 minutes. Warmer weather can provide more inspiring ways to get that exercise, like a pleasant walk outside or a jog in the local park.
Develop good sleep hygiene. Spend a little extra time on the bedroom when doing your spring cleaning. What can you do to make it a more positive place for sleep? Put things that introduce light during the night (like phones) away from the bed. You might also consider painting your room a soothing color to ease tension.
Create opportunities to reduce stress. Whether it's setting up a regular date night with your partner or a recurring evening with friends—find ways to socialize that are enjoyable to you. Rather spend time alone? Self-care should always be a priority!
Take spring a step further this year and seize the opportunity to clean up your lifestyle as well as your home. Get moving and focus on creating new coping mechanisms for stress. Making smart choices will help energize you all year long!