More Than 100 Locations. Find Yours Now.
We make it easy to schedule online or by phone before walking in.
You can also make an appointment for later. Filter below to find your center today: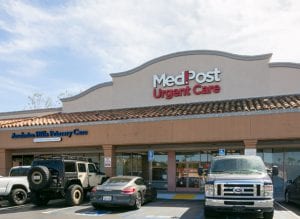 Anaheim Hills
751 S Weir Canyon Road, Suite 165
Anaheim Hills, CA 92808
Schedule Online
Schedule Online
ATTENTION ALL PATIENTS
If within the last 14 days you have had any one or more of the following:
1. Fever or symptoms of lower respiratory illness
(for example: cough, shortness of breath)
– or –
2.  Cruise ship travel or international travel
– or –
3. Close contact with a Coronavirus (COVID-19) patient
Please use our COVID-19 Assessment Tool (found to the bottom right on every page) to help make the best decision for your care.
If you do not fit the description above, please continue and please note:
Effective immediately, all visitors are being screened for Coronavirus. If possible, please come to your appointment alone or bring only one other person. Click here to learn more.
Schedule Online
Schedule Online
Urgent Care Locations Across Central and Southern California
Looking for a place to get quick medical care that's reliable and trusted in Central and Southern California? MedPost Urgent Care offers many convenient locations across Orange County and Southern Los Angeles County, as well as in Paso Robles/Atascadero and La Quinta, CA.
Our California centers offer services for a broad range of urgent care, pediatrics, wellness, and occupational health needs. Save your spot or make an appointment online to help minimize any wait in the lobby, or walk in any day of the week. We are open on nights and weekends to ensure that your non-emergency needs are being met in a timely manner. With short wait times, evening and weekend walk-in hours, and an experienced team of skilled medical professionals, our goal is to provide the best possible care when your regular doctor isn't available, or anytime you just need same-day care.
To make your visit a more convenient, urgent care experience, you can schedule an appointment online and complete any necessary info on a tablet when you arrive to help minimize any paperwork.
MedPost Urgent Care accepts most insurance plans. We also offer competitive self-pay rates for customers not using insurance. In-network insurance plans may vary by location, so please call your nearest MedPost with any questions related to insurance coverage and to confirm prior to your visit that your plan is accepted.